Naidoc Week - Voice, Treaty, Truth
Wednesday, 11 December 2019
Naidoc week was celebrated at the beginning of July. The ANFPP team were invited to have a stall at five different locations within the community during the week.
This gave our team an opportunity to promote our program not to just the local community but to the elders and other services that we could engage with to help our ANFPP clients.
Community engagement is paramount to our program and being able to promote our service in a community setting where there is potential clients or families who know of someone who could benefit from our program is always great for our organisation.

Women's Health open days are also another opportunity to engage with other services and promote our program. Speaking to the general public at these events, a lot of people had not heard of our services, so being at this community event was a great way to spread the word about our program and what it entails. Also speaking to other services they were very keen and interested in the program and what we can offer potential clients.
Community Engagement is always well received within our community and helps engage new ANFPP clients to our program. We also celebrated with a morning tea a couple of weeks later with 28 women from our local Elders group.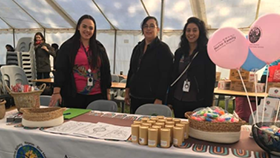 Back to News